Recently i went to Port Klang ( port to pulau ketam to be exact) with my uncle's to finish up a task(personal matters that i wish not to elaborate more now). In the process we had to rent a boat out to the sea and back which costed us RM60, which was extremely overpriced in my opinion as the whole trip lasted no more then 20 minutes max.
The sea was extremely dirty, polluted enough to look like your typical kopi-o. Anyhow, it was quite an experience to be on a very shabby looking boat, bouncing up and down with the waves with the chilly sea breeze (had a weird smell tough, pollution i guess) on my face.
Our five star cruise boat named BPK 560 P (prolly was the license number, lol)
From what I heard of ppl taking, my uncles and by judging people who boarded this boat, i guess it was headed to Indonesia or something.
Prolly this is the boat's "parking gear"
Some other boats "parked" out at sea
Titanic-ish point of view from here.. lol.. XD
Hole so that the water which splashes into the boat can escape (boat tip was like a feet from sea level)
More views from the boat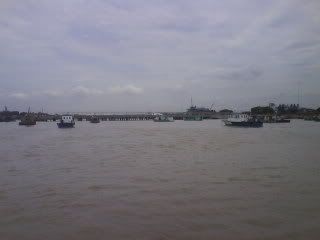 Okay, it was then time to head back.. just take a look at these stairs..
made from wood and looks quite scary, with the gap and the height I was at..
some random pictures...
Headed back to mainland through this bridge of some sort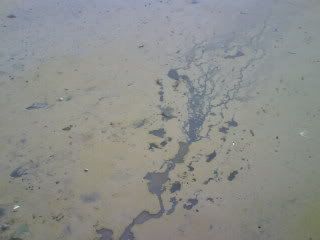 Sampans, and more sampans...