It was deepavali last weekend, so naturally I was back in my hometown (now I can actually mean it when I say hometown =p) This year we're not supposed to celebrate deepavali as the family is in mourning for a distant relative who recently passed away in my paternal side of the family. So instead we decided to take this opportunity to have a family barbecue dinner seeing as we hardly see much of each other ever since most of us started entering tertiary education.

To sum it up, it was pretty decent and quality time that we managed to spend with each other which thus far has been eluding us. Before I go on, let me introduce the younger girls of my family

And this one is the shot of most of the cousins in the family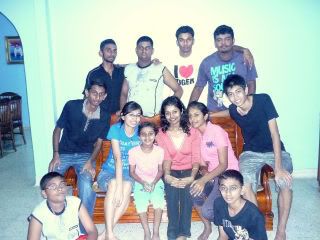 This one shows some of us involved in the preparation of food and of some others who seemed to be involved for the pic shot =)



Two of the most productive people that night, taking their time to cheek about over here and possibly trying to prove a point that work can be fun.



Sausages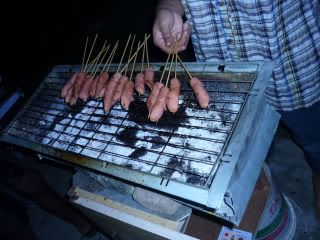 It wasnt all meat, we had fruits n vegetables too =)



Good times eating, chatting and catching up with each other =)

Apparently the night was not over as I thought it was, my family decided to finally force me into cutting a cake (my birthday jz recently passed at that time). They have been trying for some years now and bravo to them for finally succeeding =)

I'm real grateful to this lot for the surprise though =) And I'll just stop at that to avoid getting overtly emotional and making a fool of myself.


(my dear cousin was too overexcited planning the surprise that my name got spelled waaay wrong.. lol )

p.s. I'd like to apologize to my cousins who only managed to take bad pictures due to my incompetent photo-posing abilities =S